Company Alicante Real Estate continue provide services in Spain, on February 11, 2023, we open a new car dealership in Torrevieja - Alicante Auto. The showroom will have quality car repair and car rental services. As well as selling cars from Germany at the lowest prices.
Cooperation with our showrooms – profitable solution!
Spanish business benefits from a large package of services at a high level. But every year the number of new education.
We are pleased to offer a high quality car service in Torrevieja . Professional craftsmen from Germany solve any problems with your car.
And also. Comfortable room, waiting area, quality work and fast delivery of spare parts for your car. All this is now available for you in Alicante Auto.
You can also rent a car here or buy a new one at a very competitive price. We are waiting for you!
Selling cars from Germany
Our new car dealership offers a wide selection of cars from Germany at affordable prices. This dealership is the one stop shop for anyone looking for a new car, whether you're looking for a compact city car, a spacious family car, or a powerful sports car.
A dealership may have a wide range of vehicles to meet the requirements of manufacturers such as Volkswagen, Mercedes-Benz, BMW and Audi and many other brands, from budget to luxury. These features come from high design, cutting edge technology and calculated design.
What sets Alicante Auto apart from others in the area is its commitment to offering the best deals on German cars. Alicante Auto has established strong relationships with suppliers in Germany, which allows us to offer cars at prices that are significantly lower than other dealerships.
Customers calculate a wide range of prices, from inexpensive options to luxury cars, all at a bargain price. In addition, the dealership's knowledgeable and friendly sales team helps players find the perfect fit for their budget and budget.
Car sales assistance Alicante Auto also offers various services to find a car in perfect condition. They have a team of certified technicians who oversee maintenance and repairs, as well as upgrade and tune your vehicle to your liking.
Cars from Germany on order
The Alicante Auto dealership offers a range of options for its customers found in the search for used cars from Germany, including custom cars.
Sale of used cars in Germany on order — one of the main areas of work of our car dealership. Thanks to long-term and reliable partnerships with foreign car dealerships and dealers, we can fulfill the wishes of our customers quickly and efficiently.
An individual order of the car you need from Germany is a great opportunity to get it extremely strictly!
Alicante Auto is a one-stop shop for those who are looking for a unique and customized car in the market, whether you are looking for a classic car, a luxury car or a unique sports car.
The dealership boasts a large selection of cars from the best German auctions, where you can find rare and unique cars that are not found anywhere else. These vehicles are known for their high quality engineering, cutting edge technology and sleek design.
The dealership has a team of experienced technicians and car builders who can take a car from the auction and customize it to the customer's exact specifications, can perform regular maintenance and repairs, and upgrade and tune your car to your liking.
Customers can expect a wide range of prices, from inexpensive options to luxury cars, but all can be customized to suit the needs of the client. In addition, the dealership's knowledgeable and friendly sales team is committed to helping customers find the perfect vehicle for their needs and budget.
Car dealership Alicante Auto in Torrevieja — an excellent choice for those looking for a unique and bespoke vehicle from German auctions. Whether you're a local or just a tourist, be sure to check out the impressive selection of vehicles from Germany.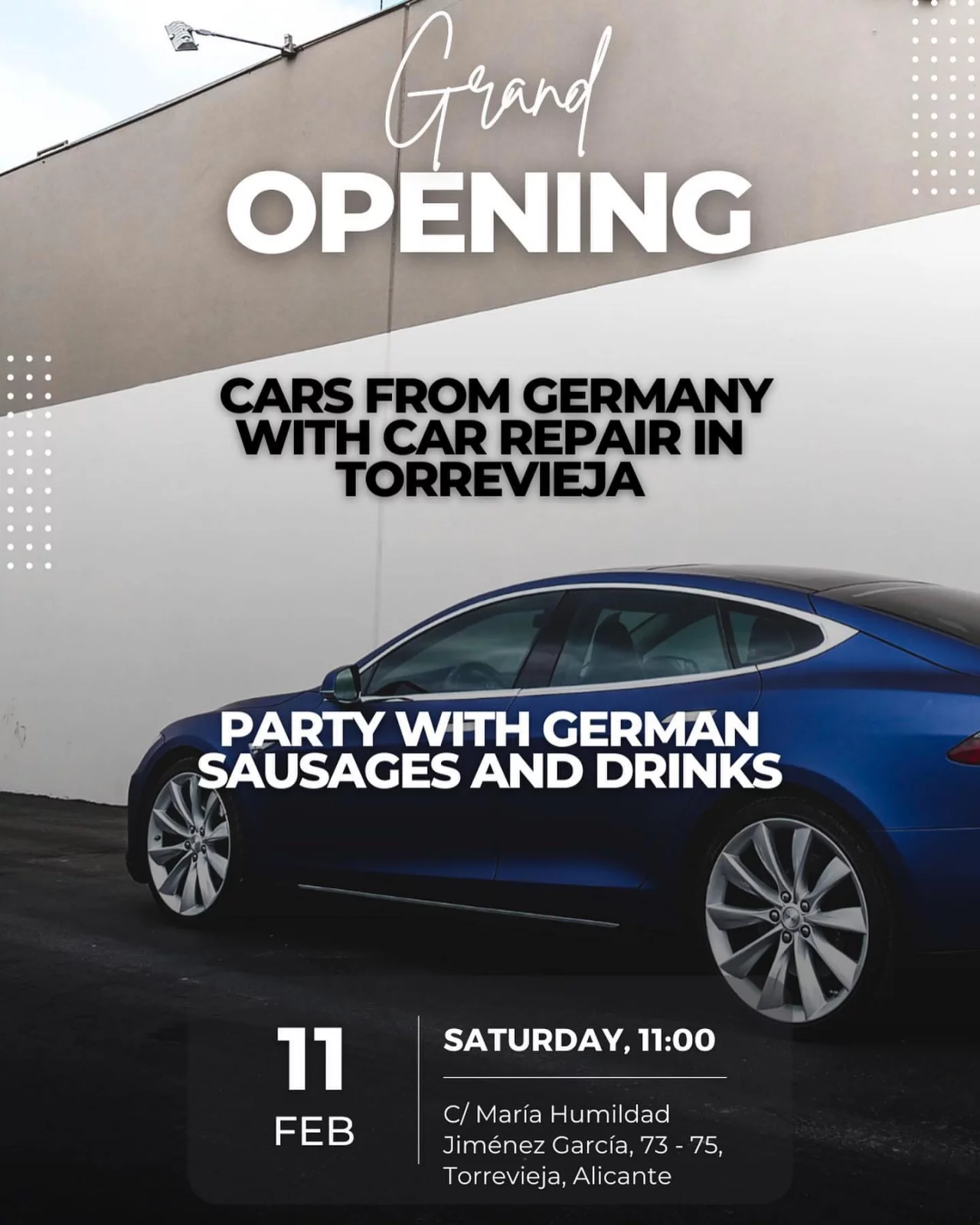 What is the benefit of buying a car in Germany?
German cars have secured the reputation of one of the most reliable, high-quality and representative cars in the global automotive market. If you want to buy a car from Germany, then you have come to the right place. We offer you professional car selection services. With our help, you can buy not only a new car, but also a used car from Germany. The cost of buying a car from Germany includes customs clearance and driving a car from Germany to Spain.
We offer services of purchase, paperwork for cars from Germany at competitive prices. Working with us is convenient and reliable. Choose quality for a reasonable price.
Alicante Auto dealership address
The car service is located in the city of Torrevieja, at – Calle María Humildad Jiménez García, 73 - 75.
Daily car rental in Torrevieja
In our showroom you can book any available car for rent, call or visit Alicante Auto.
With promo code EXPERT you will get a discount on car rental.